Top Cycling Routes to Explore this Spring: Breathtaking Scenic Rides Across the USA and Canada
As the weather warms up and the days grow longer, spring presents the perfect opportunity to hop on your bike and explore some of the most stunning cycling routes in the USA and Canada. Whether you're seeking coastal views, mountain landscapes, or lush forests, these top routes offer something for every cyclist.
1. Going-to-the-Sun Road, Glacier National Park, Montana, USA
Spanning 50 miles, this iconic route takes you through Glacier National Park, offering breathtaking views of the Rocky Mountains. The Going-to-the-Sun Road is famous for its alpine meadows, cascading waterfalls, and glacial lakes. Be sure to ride this route before mid-June or after September to avoid the summer crowds.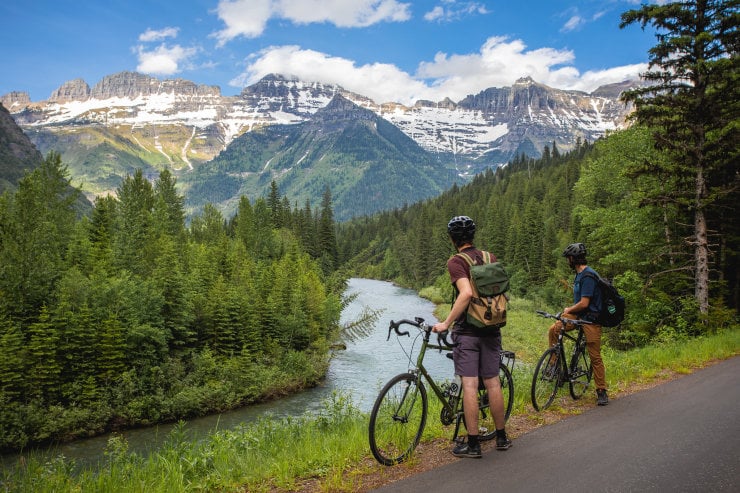 Image source
2. Cabot Trail, Cape Breton Island, Nova Scotia, Canada
The Cabot Trail is a 185-mile loop around Cape Breton Island, boasting dramatic coastal views, lush forests, and charming fishing villages. This challenging ride offers steep climbs and thrilling descents, making it ideal for experienced cyclists seeking a springtime adventure.
Image source
3. Pacific Coast Highway, California, USA
Stretching from San Francisco to Los Angeles, the Pacific Coast Highway offers 600 miles of stunning coastal views and picturesque seaside towns. Ride along the rugged cliffs, sandy beaches, and iconic landmarks like Big Sur and the Bixby Creek Bridge. The route is best enjoyed in the spring when the weather is mild and the summer crowds have yet to arrive.
Image source
4. Icefields Parkway, Alberta, Canada
Connecting Banff and Jasper National Parks, the Icefields Parkway is a 144-mile route through the heart of the Canadian Rockies. This scenic ride offers jaw-dropping views of snow-capped peaks, turquoise lakes, and sprawling glaciers. Spring is an ideal time to ride this route, as the snow has begun to melt and the wildlife is emerging from hibernation.

Image Source
5. Blue Ridge Parkway, Virginia and North Carolina, USA
Winding through the Appalachian Mountains, the Blue Ridge Parkway offers 469 miles of lush greenery, rolling hills, and panoramic views. The route connects Shenandoah National Park in Virginia to the Great Smoky Mountains National Park in North Carolina. Spring is a fantastic time to ride the Blue Ridge Parkway, as the wildflowers are in bloom and the temperatures are comfortable.
Image source
6. Route Verte, Quebec, Canada
Stretching over 3,100 miles, Route Verte is the longest network of cycling paths in North America. This extensive network offers diverse terrains and attractions, including urban centers, picturesque countryside, and historic sites. Spring is a lovely time to explore Route Verte, as the snow has melted and the vibrant foliage is emerging.
Image source
No matter your skill level or preferences, these top cycling routes offer some of the most scenic and enjoyable rides across the USA and Canada. So, gear up, plan your spring cycling adventure, and experience the beauty of nature on two wheels.
Did we miss a place? Make sure to drop them in a comments and we will add it to our list!
---